Work begins on new Dawlish sea wall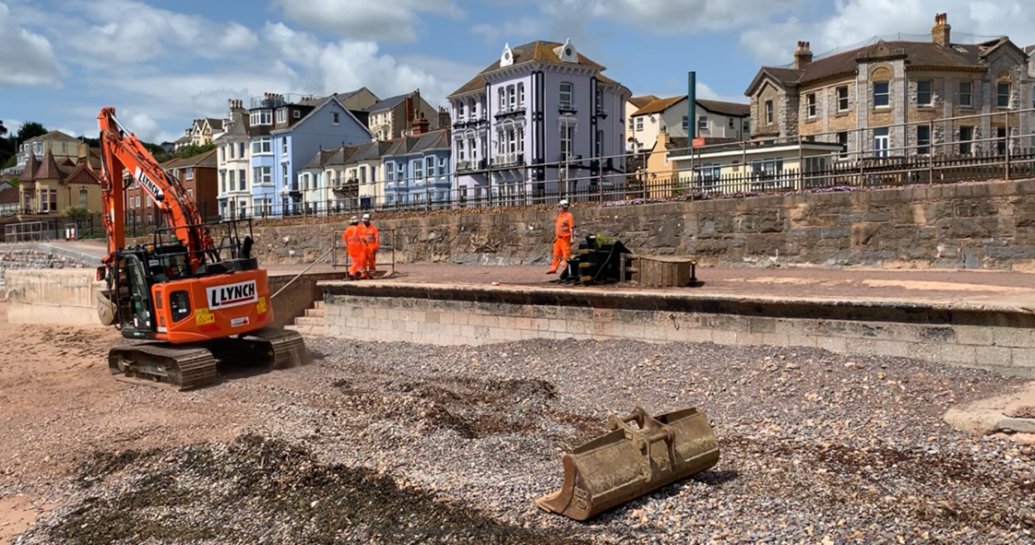 04th June 2019
Work has now started on a project to improve the sea wall at Dawlish which will provide greater protection to both the railway and town from the threat of sea level rises and extreme weather. The upgrade - undertaken by Network Rail - began on June 1 and will take around nine months to complete.
The new sea wall has followed years of detailed studies by world leading marine, coastal and railway engineering experts, and will not just benefit Dawlish itself. As the railway is a main artery that connects as many as 50 towns and cities to the rest of the UK, the benefits of the project stretch far and wide.
The new seal wall will be 2.5m than the existing structure and also have a curved edge to better dissipate the energy from waves. A wider and safer promenade will also be incoporated into the wall, with seating to provide clear views of the coast. Work on the project is expected to be completed in early 2020 and work will also be suspended during the peak summer season to minimise disruption.
David Lovell, Network Rail senior programme manager for the Dawlish sea wall project, said:
"We are pleased to have started work on delivering this vital upgrade that will protect the rail artery to the south west for the next 100 years. Our plans have been drawn up by world leading engineers and it will provide greater protection to the railway and town from rising sea levels and extreme weather. We will continue to update the community with how our work is progressing."
Anne Marie Morris MP, for Newton Abbot, said:
"I am glad to see that the first steps to deliver the South West Rail Resilience Programme – which is so crucial for our local economy – are getting underway at Dawlish. Network Rail have listened to residents during the consultation and have amended their design to address concerns as much as they can without compromising the effectiveness of the sea defence. An information point at Dawlish will enable residents to further discuss any ongoing concerns or questions which they may have during this important project."
Kevin Foster MP, for Torbay, said:
"The plans Network Rail have put together won't just benefit Dawlish, but Torbay and the whole South West. It is a great day to see the funding in place and work now starting to deliver the resilient, reliable railway passengers and businesses across our region deserve."
Author: Darren Porter
Image: Network Rail