Brightline debuts Virgin MiamiCentral station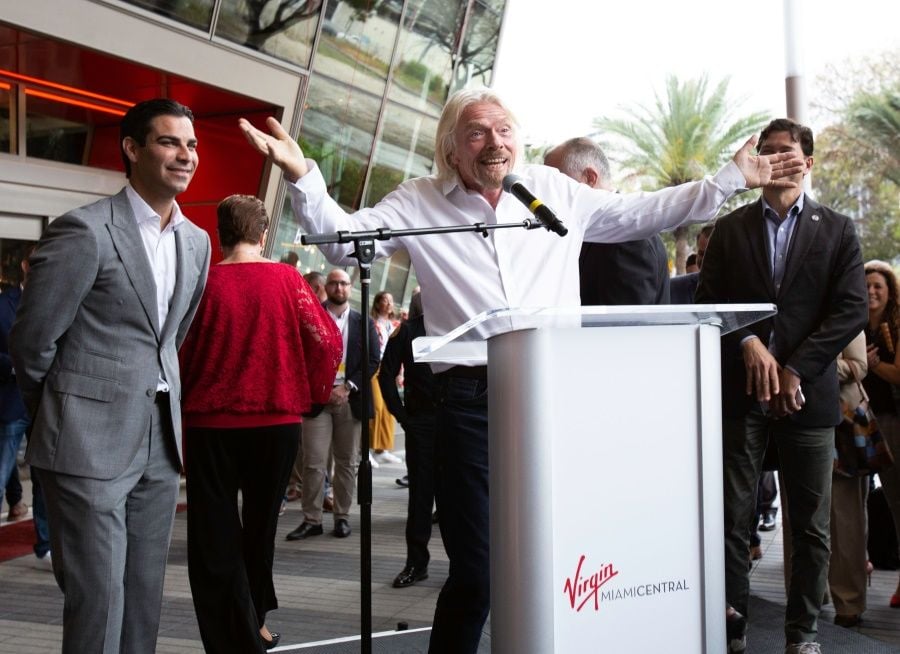 05th April 2019
Sir Richard Branson and Virgin Trains USA President Patrick Goddard have unveiled the new Virgin MiamiCentral and revealed the first visuals for Virgin Trains USA. Also in attendance was the City of Miami Mayor Francis Suarez and Miami-Dade County Commissioner and Chair of the South Florida Regional Transportation Authority Esteban Bovo, Jr. The celebration marked the first significant moment in Brightline's transition to Virgin Trains USA.
Virgin MiamiCentral is the hub for all things transportation, business, dining and entertainment in downtown Miami. Connecting Metrorail, Metromover, Brightline and soon, Tri-Rail, the destination offers unparalleled transportation options for the millions of commuters, visitors and travelers who will be accessing the station.
This is all the culmination of an agreement made in November 2018 when Brightline announced a strategic partnership and trademark licensing agreement with the Virgin Group, one of the world's most recognizable brands in travel and hospitality. As part of a phased approach to rebrand to Virgin Trains USA in 2019, Virgin MiamiCentral is the first element in this process.
Virgin Trains USA President Patrick Goddard said:
Virgin MiamiCentral is the central hub for all things transportation and mobility. With the addition of the Virgin brand we solidify ourselves as the premier live, work and play environment in downtown Miami. Virgin MiamiCentral is the only destination that connects Miami-Dade County through its various transit systems, and with the combination of Brightline and Tri-Rail, connects the entire southeast region. Mobility continues to be key as our region and population grow - and we are meeting the demand."
Sir Richard Branson said:
"Virgin has a long history of changing industries for the better and inspiring enduring loyalty through outstanding customer experience. Today marks the first step in that journey with Virgin Trains USA as we unveiled the beautiful Virgin MiamiCentral station. I'm very excited to see the transformation of our service and the plans for the next phase of the project to Orlando."
Author: Darren Porter
Image: Brightline