LNER introduces new onboard menu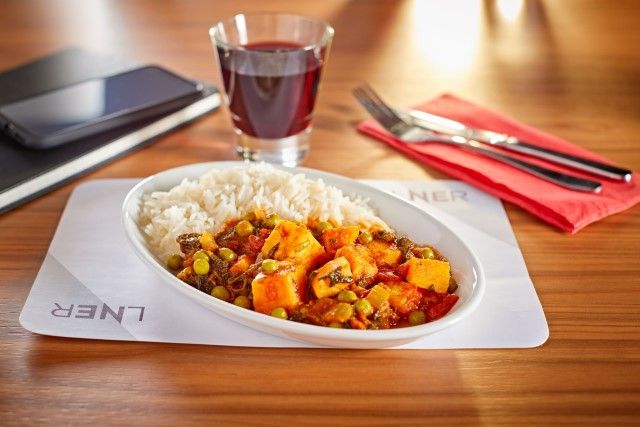 07th May 2019
LNER have recently introduced an all new onboard menu featuring freshly prepared meals for First Class customers along with a new and improved range of hot dishes that can be obtained from the newly branded Let's Eat Café Bar.
The new menu has been created by the team of LNER Hero Chefs, who devised the menu based on local food and with a commitment to customer service. Using products sourced from local suppliers along the length of the LNER route, new relationships have been created with the likes of Beckleberry's in Newcastle who now supply the savoury tarts and desserts.
The menu now includes the following, along with a furtherfour hot options from our Let's Eat Café Bar, to provide high quality, hot food to all customers:
Holy Moly breakfast avocado on toast served with a poached egg and fresh tomato (vegetarian)
Spinach, pea and sweet potato curry and rice (vegan)
Brined chicken supreme with butter beans, chorizo and green beans
Orkney white and Shropshire blue served with celery sticks, Hop on Board ale & apricot chutney and Carr's water biscuits
Les Brearley who is one of the Hero Chefs and has worked for LNER for 18 years said:
"Developing a menu to be both cooked from fresh and served onboard was a real challenge but I'm really happy with all the dishes we've created. We wanted to ensure that it reflected current food trends and include more vegetarian and vegan options. It has been a great team effort and I've really enjoyed getting out and meeting the suppliers along our route."
Claire Ansley, Customer Experience Director at LNER, said:
"The Hero Chefs initiative was born out of a desire to bring our dishes back in house with our onboard chefs taking the lead. The Hero Chefs initiative gives customers freshly prepared food that looks and tastes great, and we will continue to explore how we can offer the best onboard dining experience in the industry."
To view the LNER onboard menus. click here.
Author: Darren Porter
Image: LNER