Gatwick Express celebrate 35 years of operations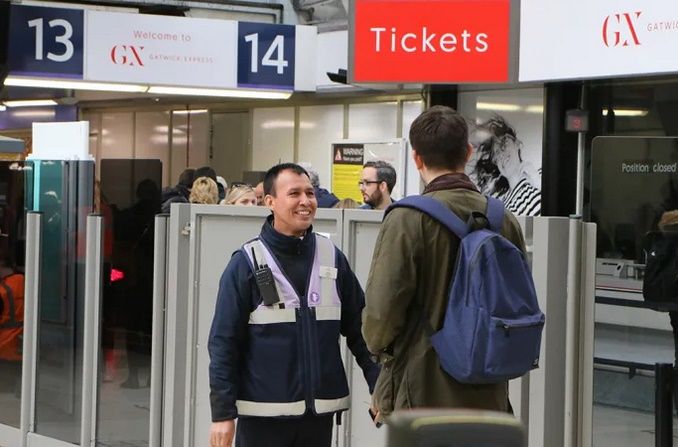 14th May 2019
The team at Gatwick Express are today celebrating with passengers, staff and airport partners to mark 35 years since the start of operations. Gatwick Express started a full service on 14 May 1984, initially with a fleet of Class 73 locomotives along with coaching stock.
Gatwick Express has evolved since those days and in 2007 saw the service extended to and from Brighton. In 2015 it became part of Govia Thameslink Railway and a year later saw a £145m fleet renewal programme.
Staff at London Victoria were on hand this morning to give away limited edition tote bags and a string quartet were serenading passengers arriving at the busy terminus. A magician is also on board several Gatwick Express services throughout the day, entertaining passengers with some close-up magic.
Staff at Gatwick Airport staton will are giving away cupcakes to passengers and Angie Doll - Passenger Services Director for Southern and Gatwick Express - will also be cutting a special Gatwick Express train cake for staff to mark the birthday.
Stephen MacCallaugh, Head of Gatwick Express said:
"The 35-year anniversary of operations is such an exciting occasion to be part of. It makes it even more special to be celebrating this event with the team. The Gatwick Express family make this a wonderful place to work; we're looking forward to getting involved in the birthday activities with passengers at Victoria and Gatwick to celebrate,"
Simone Forzani, Customer Service Host, said:
"So many famous people have passed through our gates: Richard Branson's been here and I've seen David Cameron twice. But the onewho made me swoon was Damian Lewis. He was carrying loads of bags and was struggling to get through the gateline. I offered to help but he couldn't speak because he had his ticket in his mouth, poor man. So I took it from him, popped it through the gate and let him through. Everyone was staring at us. He was so grateful for my help and then Damian Lewis turned around and smiled –at me!"
Michael Green, On Board Supervisor, said:
"It's the magic touches we give to our customers that set us apart. Gatwick Express has allowed me to be who I am. I often make tongue-in-cheek announcements to put a smile on the faces of my customers; most of them know me and I tailor my announcements for them. We want them to have the ultimate experience. We're very family-orientated, very friendly and we always put the customer at the heart of what we do,"
Basra Begum, Sales Clerk, said:
"I remember when I started we had training for two weeks. I learned how to do platforms, then ticket office, then I worked on the information desk. It was much more about multi-skilling in the early days. There were no computers: we all had manuals to check fares! I still enjoy working for Gatwick Express, that's why I've stayed here so long."
Nigel Geary-Andrews, On Board Supervisor, said:
"I remember one day Chris Eubank the boxer turned up at Victoria station. He asked me where the first-class compartment of the train was. He could see I recognised him, so he told me to come and find him later. I did go to see him and he insisted I have a photograph taken with him! He was a lovely man and although he's no longer a boxer, he still looks like someone you'd wouldn't want to have a fight with!"
Author: Darren Porter
Image: Gatwick Express