Class 365 fleet ready to depart from ScotRail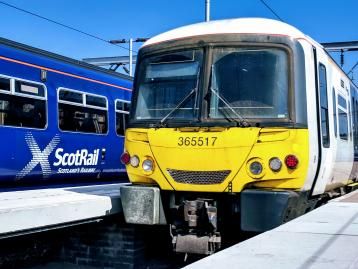 15th March 2019
The temporary Class 365 fleet introduced by ScotRail last summer as a temporary measure are now ready to be withdrawn from service as they are replaced by the brand new Hitachi Class 385. Lovingly dubbed as 'happy trains' due to their yellow front, windscreen and curved grill resembling a smiley face, the trains performed admirably whilst ScotRail prepared for the arrival of its new, state-of-the-art, Class 385s.
The happy trains added an extra 17,200 extra seats each day on the Glasgow – Edinburgh via Falkirk High route and have since been used on the recently electrified lines between Glasgow / Edinburgh and Stirling / Dunblane / Alloa. By introducing more brand-new Hitachi Class 385s in the Central Belt, ScotRail will deliver faster journeys on more reliable trains. The first Class 365s was withdrawn from service on Tuesday 12 March, with the remainder to be phased out over the coming week.
ScotRail Head of Customer Operations Phil Campbell said:
"The Class 365 happy trains were a welcome addition to the ScotRail family, but it's now time for them to be replaced.
"Over the next week, we'll withdraw the happy trains from service and replace them with more of our brand-new Class 385s, which will deliver faster journeys and a more reliable service for our customers."
Author: Darren Porter
Image: ScotRail