DRS Charity Open Day 2019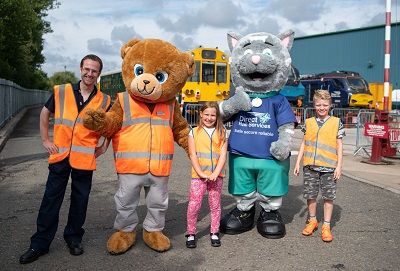 15th March 2019
The annual DRS Open Day has been announced and it will take place at the DRS Kingmoor depot in Carlisle on Saturday 20th July 2019 from 10am – 4pm. A fun day out is guaranteed as you are invited to have a look behind the scenes of the bustling DRS operation.
A range of locomotives will be on show - including the new Class 88 - and the friendly DRS team will be on hand to provide technical information and answer any questions about all things DRS. Industry experts will also be advising how to stay safe around the railway and exhibitors will be selling all sorts of railway memorabilia. There really will be something for everyone.
Tickets are available from the DRS shop which can be found by clicking here. Entry is £5.00 and under-16's can attend for free although they must be accompanied by an adult at all times. The address for the event is as follows:
Direct Rail Services
Kingmoor TMD
Etterby Road
CA3 9NZ
From Carlisle Railway Station you can take Stagecoach bus 76 from The Courts and get off at The Redfern Inn. Kingmoor Depot is a short walk from this stop. Due to limited space at the Kingmoor depot, parking cannot be offered for the event.
Author: Darren Porter
Image: DRS