Vivarail launches Class 230 fast charge system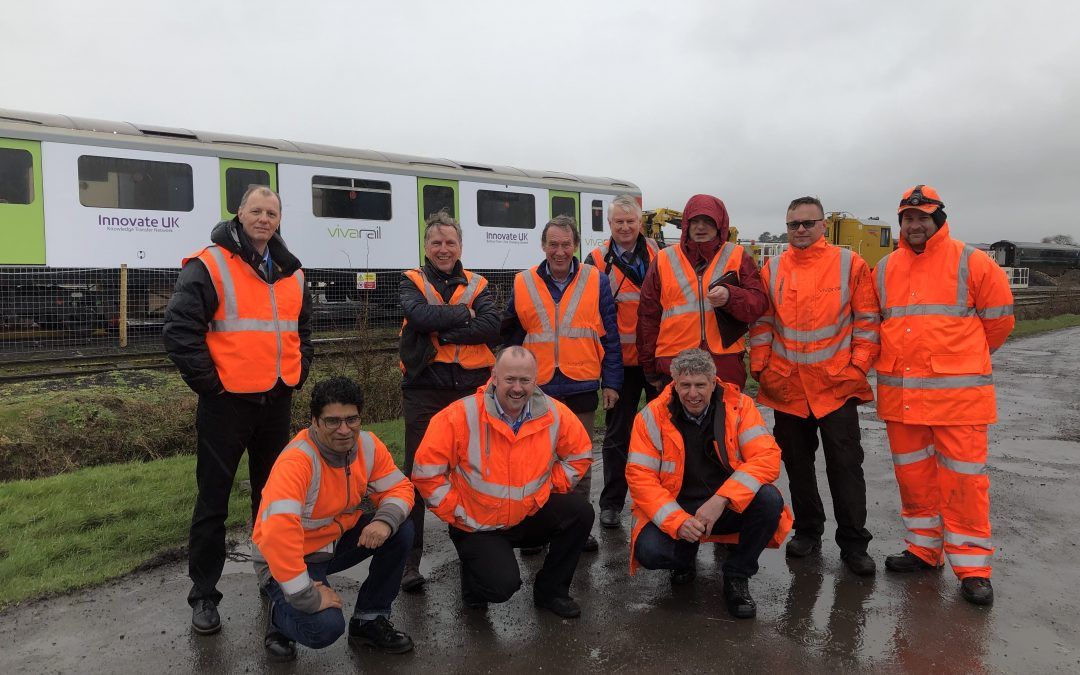 19th March 2019
Vivarail have announced that it has successfully demonstrated the capabilities of its patented fast charge system to the Department for Transport and InnovateUK. The demonstration is the culmination of a 12 month project supported by a grant from the Accelerating Innovation in Rail 4 competition, funded by the Department for Transport and delivered by InnovateUK to develop new technology.
This system means Vivarail can deliver an operational battery train with a range of more than 60 miles between charging along with the accompanying charging system. Vivarail are the only UK company to be able to offer this and it means that an emission-free train is available today.
The fast charging system comprises of short sections of 3rd and 4th rail that connect to the train via shoegear. As the train arrives at the terminus, the shoegear automatically connects to the rail without driver intervention and draws current at an extremely high rate in order to charge the batteries quickly.
Several technical limitations had to be overcome in order to achieve this, including the use of a carbon ceramic shoe to withstand the extreme heat generated during the charging process. With safety of the charging area also an important consideration, the conductor rail design was developed to ensure that it only becomes live when a train is in situ.
This system means that short turnarounds are achievable with a charge time of as little as 7 minutes whilst the train waits in the terminus. This short time coupled with a 60 mile range opens up an enormous range of potential lines to run these zero emission trains.
Adrian Shooter, CEO of Vivarail, said
"Having procured, operated and maintained trains over many years my aim with the Class 230 has always been to build a train that delights passengers and operators. I know how important it is to the public and the industry as a whole to phase out diesel units and our battery train is paving the way for that to take place today not tomorrow. This train can be easily brought into service saving huge amounts of spend on electrification and infrastructure.
"I was delighted that InnovateUK awarded us this grant last year and I am extremely proud of my team, led by Pete Mason and Paul Soor, who brought this brand new system to fruition in such a short space of time."
Kelvin Davies, Innovation Lead for Rail at InnovateUK said
"We know that travelling or moving goods by train is more sustainable for the environment. Yet the challenge remains to encourage new technology and new thinking to make it ever more environmentally-friendly. What the Vivarail project team have achieved is extremely encouraging in supporting the delivery of battery-powered rolling stock in the UK. Exploring the opportunity offered by this technology is crucial in delivering the Department for Transport's future national rail strategy, supported by Innovate UK. As we move away from diesel traction the expertise developed in this project will promote the UK as being at the forefront of this exciting growth area."
Author: Darren Porter
Image: Vivarail