FirstGroup announce procurement of Hitachi AT300 trains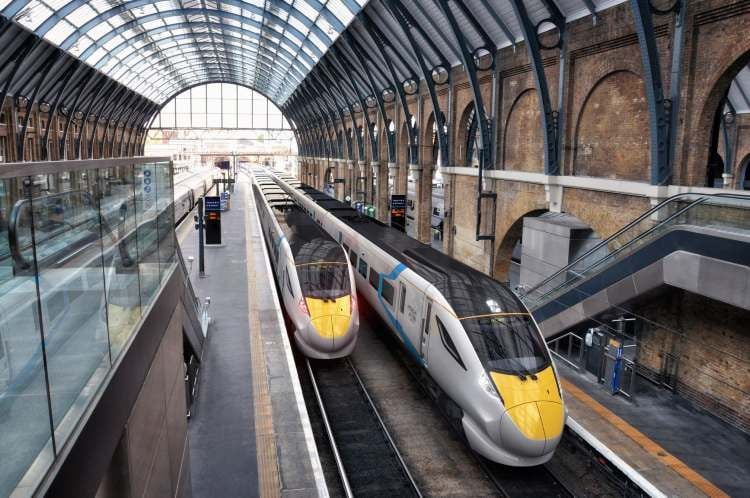 21st March 2019
FirstGroup have confirmed an order for five brand new AT300 125mph intercity electric trains and ongoing maintenance, following completion yesterday of a £100 million deal for the trains between FirstGroup and Hitachi Rail, financed by Beacon Rail. The trains will be used on a new high-quality, low fare rail link between London and Edinburgh.
FirstGroup has secured rights from the Office of Rail and Road to run a new 'open access' service between the two capitals, with the aim of encouraging people to use trains rather than planes. Currently two-thirds of journeys between the two capitals are made by air.
Under the plans, customers will benefit from an average fare of less than £25, on-board catering and free Wi-Fi, all offered in one high-quality class of travel. FirstGroup already operates an open access service, the award-winning Hull Trains. Today's news that FirstGroup has procured Hitachi's latest AT300 125mph intercity electric trains provides confirmation that the service will be going ahead and will start in Autumn 2021. Hitachi will build the five electric intercity trains of five carriages each. As part of the agreement, the new trains will be fully maintained by Hitachi for 10 years.
The benefits of the new trains include:
More seats – five new trains will offer an additional 400 seats per train on the route
Greater comfort – new interiors, air conditioning, Wi-Fi, power sockets
Quieter and more environmentally friendly – electric power is quieter with lower emissions
High-quality travel for all – one standard class of service will operate throughout the train
Steve Montgomery, First Rail's Managing Director, said:
"We're excited to announce the next step to providing our high-quality low fare service for customers linking London and Edinburgh. There's a real gap in the market for truly affordable rail travel between the two capitals – our plans show we are serious about competing with low-cost airlines and opening up rail travel on this key route to thousands of new passengers. The new trains we are introducing will provide the highest level of comfort and service, whilst being great for the environment and air quality."
Karen Boswell, Managing Director of Hitachi Rail Europe, said:
"Our Japanese-bullet train inspired fleet will play a vital role in supporting FirstGroup's exciting new service. These trains have been designed to increase the number of seats available whilst harnessing the latest in comfort design to boost passenger experiences. Today's deal extends our long-term relationship with FirstGroup, who already use our pioneering intercity trains in other parts of the country to boost reliability and passenger satisfaction."
Rob Dee, Commercial Director of Beacon Rail, said:
"Beacon Rail is delighted to be financing, procuring and leasing the new Hitachi Inter-City Trains for FirstGroup's new London-Edinburgh service. We are delighted to extend our existing relationship with FirstGroup and look forward to working closely with the Hitachi Rail Europe team to deliver a fantastic passenger experience, which will encourage passengers out of planes and onto trains, promoting sustainable travel."
Author: Darren Porter
Image: FirstGroup