Norwich in 90 begins on the Great Eastern Main Line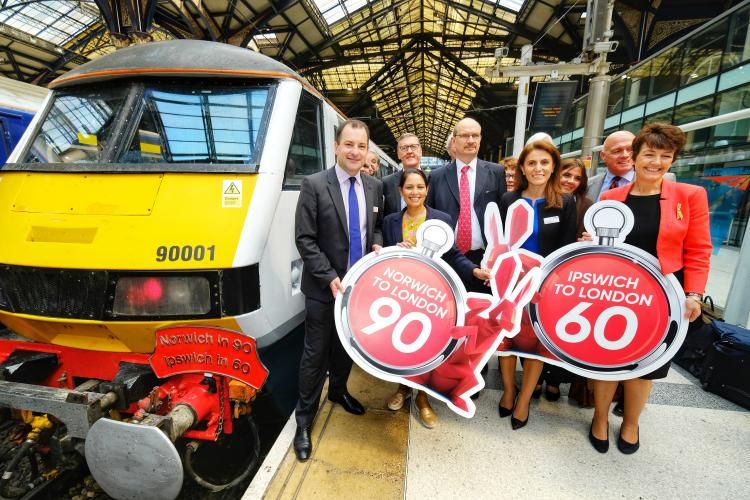 21st May 2019
Heralded as the start of transformation of services on the Great Eastern Main Line, the 'Norwich in 90' project officially started yesterday. Four extra services have been added to the route, all timetabled to complete the journey between Norwich Ipswich and London Liverpool Street in only 90 minutes. These services also offer a journey of just 55-57 minutes between Ipswich and London.
Businesses and politicians in East Anglia have been lobbying for faster journey times in the region for over a decade now and the service was championed through the East Anglian Rail Prospectus and Great Eastern Main Line Taskforce.
Despite scepticism from within the industry that these timings can be regularly achieved due to congestion on the southern end of the route, two of the four services managed to achieve the 90 minute milestone on the opening day of operations. It's also worth noting that Greater Anglia have stated that these are introductory times and could change in subsequent re-issues of the Greater Anglia timetable, which could see changes made following the introduction of the new train fleet.
Jamie Burles, Managing Director of Greater Anglia said:
"Today's launch of our new faster services between Norwich, Ipswich and London, is another big step in the transformation of our railway in East Anglia. Today we travelled on our existing trains, but this service will run on our brand new Intercity trains as we replace all of our existing trains with brand new state-of-the-art modern trains. As customers speed through East Anglia into London they'll be able to enjoy longer trains, with more seats, USB and plug points, wifi, better passenger information and improved accessibility."
Chris Starkie, Chief Executive of New Anglia Local Enterprise Partnership, said:
"This is a great milestone following a long period of negotiations and campaigning. It's a huge step forward in improving customer experience and cutting journey times. Norfolk and Suffolk is one of the fastest growing regions in the country and it needs high quality rail infrastructure to support growth and to help businesses compete in global markets. The LEP strongly believes investing and transforming our railways is essential today and also decades to come ensuring we remain competitive and attractive as a business location."
Priti Patel, MP for Witham, said:
"Having established the Great Eastern Main Line Taskforce in 2013 and worked closely with rail user groups, local businesses, and MPs, I am delighted to see these new services getting underway today. The new 'Norwich in 90' and 'Ipswich in 60' services are another major achievement for the Taskforce and featured in our original rail investment prospectus to the Government for the Greater Anglia franchise. These new services build on GEML's other recent successes including the launch of Delay Repay 15, passenger refunds for late running services over 15 minutes, and the securing of more than £1bn funding for new Greater Anglia trains due to come into service within a matter of weeks."
Meliha Duymaz, Network Rail Anglia's route managing director, said:
"Delivering these faster services for passengers into the new timetable has been a real joint effort, and along with Greater Anglia, we know that Norwich in 90 will provide better journeys for the people who live and work in the region as well as supporting the local economy. Recent performance on the route has been some of the best in years, and together we're working on various initiatives to make journeys better for everyone."
Author: Darren Porter
Image: Greater Anglia