Highland main line upgrade work completed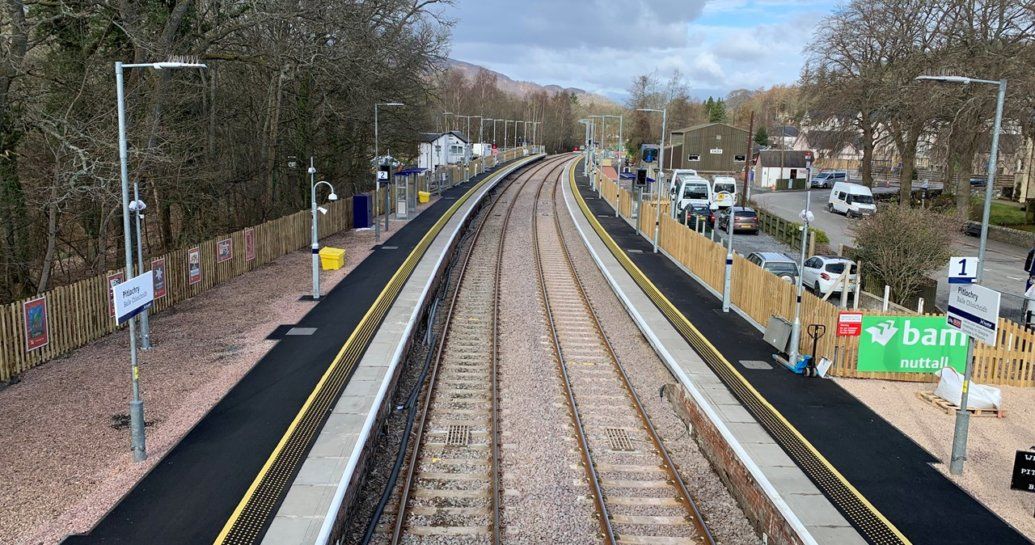 27th March 2019
A £57 million programme of upgrades has now been completed by Network Rail on the Highland main line between Perth and Inverness. The government funded investment in the line will help deliver an hourly service and reduce journey times by around 10 minutes on average. It also offers potential improvements in the timetable for the first and last trains between Inverness and the Central Belt.
The project started in Summer 2018 and primarily focussed on Aviemore and Pitlochry, delivering work to remodel and extend tracks along with upgraded signalling to offer more resilience and allow trains to move more efficiently over the line. With an increased fleet of trains arriving on the line, this will improve connectivity and support more services. Journey times will be improved and will create a more attractive public transport choice for all of the communities along the line.
The most recent work took place from Friday night until the early hours of Tuesday morning when engineers worked around the clock to complete new infrastructure between Perth and Inverness. This included laying ot new track at Aviemore, testing the newly installed signalling systems and introducing longer platforms at Pitlochry. The project has also helped to conserve the history of the stations; working with the community to restore some of Pitlochry station's decorative features including the Victorian water fountain and benches.
Matthew Spence, route delivery director for Network Rail, said:
"We are delighted to have completed work on this vital rail corridor on time and on budget. This investment will help to deliver additional capacity and journey time improvements to support both passenger and freight growth. We appreciate that this work has at times been inconvenient for those travelling on the route as unavoidably, we had to close the line for periods to deliver these enhancements. However, we hope that the longer-term benefits that the work enables; more services with journey time improvements, will prove to be worthwhile."
Bill Reeve, Transport Scotland's Director of Rail, said:
"Passengers will welcome the news this infrastructure work has been completed on time and well within budget. The original budget for this programme was £117 million and current anticipated costs are less than half that at £57 million. Network Rail is to be congratulated for this efficiency. This will allow the roll out of improved ScotRail Inter7city services as the re-engineered High Speed Trains are delivered. We continue to press the rolling stock overhauler WabTec to deliver these much-needed trains, so the value of this investment can be realised at the earliest possible opportunity and for many years to come."
Author: Darren Porter
Image: Network Rail