Great Northern 717 carries first passengers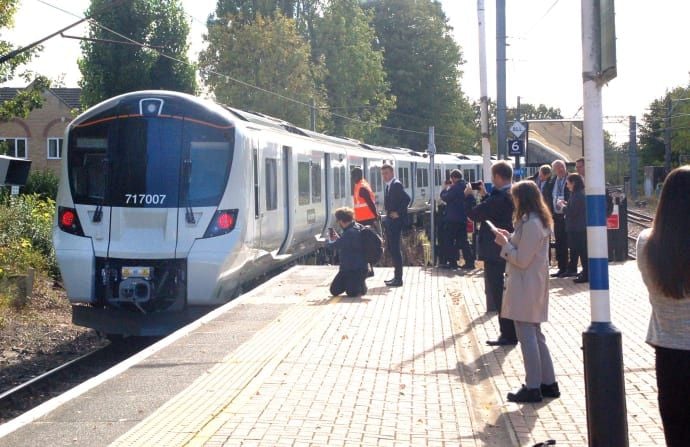 01st October 2018
On Friday (28th September) morning, Great Northern passengers were given a glimpse into the future as the first of the new Siemens built Class 717 fleet entered service only a day after it was taken on lease.
Funded by Rock Rail Moorgate (a joint venture between Rock Rail Holdings and Aberdeen Standard Investments) in a £240 million deal, the 25 units will feature air-conditioning, power sockets and WiFi and will be used on the Great Northern network from Moorgate to Stevenage, Hertford North and Welwyn Garden City.
Providing 27% additional capacity compared with the Class 313s they will replace, each of the units has capacity for 943 passengers, for which there are 362 seats (including 64 priority seats and 15 tip-ups).
Gerry McFadden, Director of Engineering at Great Northern's operator Govia Thameslink Railway, said: "These spacious new trains are a key part of our RailPlan 20/20 programme to modernise services in the South East. The Class 717s will transform journeys for passengers on our busy metro services into Moorgate.
"They will all be the maximum length for this route and feature air conditioning as well as power points, Wi-Fi and real-time passenger information screens to make travelling with Great Northern a much more comfortable and convenient experience.
"Wide doors and spacious interiors will help address the huge increase in passenger numbers into Moorgate, and also help passengers board and alight promptly, helping us keep trains running on time.
"We will maintain these trains at our Hornsey depot, where a multi-million pound investment is providing the new facilities and equipment.
"We took the first units on lease only the day before, and we are delighted to have achieved this important milestone of our first preview passenger service within a day. Doing so is a testament to the incredibly good collaboration between Siemens, GTR and Network Rail on this project and the very effective new train introduction project management team we have in GTR."
Author: Darren Porter
Image: Great Northern