Siemens Canada awarded $989 million VIA Rail contract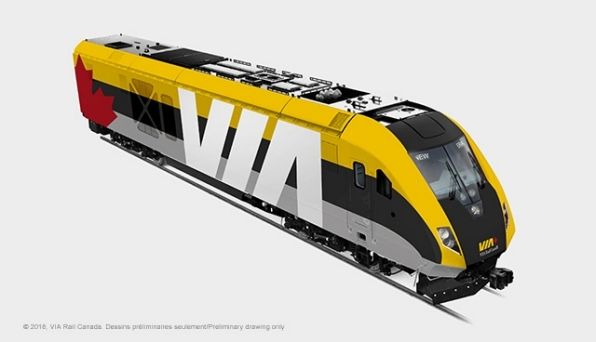 13th December 2018
VIA Rail have announced that Siemens Canada have been awarded a $989 million contract to build 32 trainsets that will replace VIA Rail's fleet that operates in the Quebec City-Windsor Corridor. Following an open and transparent bidding process, on-time delivery, quality of product and price were the criteria on which all the proponents were evaluated.
VIA Rail still operate some of the oldest trains in North America with some of the fleet dating back to the 1950's, most of these trains are now nearing the end of their life. VIA Rail will now retire some of the fleet in 2019 and therefore on-time delivery was a key consideration when awarding the contract.
From 2022, millions of customers travelling in Canada's busiest corridor will be able to take advantage of these new state-of-the-art trains which will offer more comfortable seats, more spaces for those with reduced mobility and all trains will be equipped with the latest technology to be more fuel efficient and reduce the VIA Rail carbon footprint.
The new fleet will have an expected 30 year lifespan and will be maintained in Canada by qualified VIA Rail employees at VIA Rail's Montreal and Toronto Maintenance Centers. Maintenance activities will be supported by a 15-year Technical Services and Spares Supply Agreement (TSSSA) valued at $23,7 million per year.
Françoise Bertrand, Chairperson of the Board of Directors, VIA Rail Canada said:
"As is the case in its day-to-day business practices, VIA Rail conducted a procurement process that was fair, open, rigorous and transparent. Having an open bidding process, available to all interested suppliers, allowed VIA Rail to reap the benefits of having the best railway companies in the world competing to supply the Quebec-Windsor corridor fleet. VIA Rail's Board of Directors is convinced that the decision announced today represents the best value for money for all Canadians."
Yves Desjardins-Siciliano, President and CEO, VIA Rail Canada said:
"As we are initiating the gradual withdrawal of the current fleet, the timely delivery of the new fleet will allow VIA Rail to maintain the current levels of service in the Québec-City Windsor Corridor, while significantly improving the quality of its passenger experience. We thank the Government of Canada for their trust in VIA Rail and for this historic investment in its sustainable future."
Faisal Kazi, President and CEO, Siemens Canada said:
"Our new trains will offer VIA Rail passengers a more comfortable and accessible rail travel experience while also supporting VIA Rail's sustainability goals. As part of the Canadian fabric for over a century, we're committed to helping this country become stronger and continuously improve, and this fleet replacement reflects that and benefits from our experience worldwide."
Author: Darren Porter
Image: Siemens/VIA Rail