Skip Stopping down 84 percent at ScotRail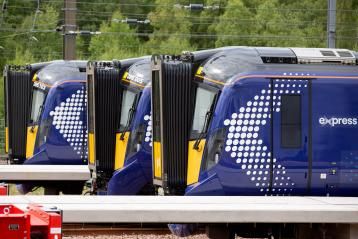 16th November 2018
The ScotRail Alliance have published new figures that show an 84 percent reduction in trains missing a scheduled stop. Taking into account the four weeks to 10 November, only 118 ScotRail trains out of a total of 58,510 scheduled services missed stops. During the same period in 2017, 844 services missed stops.
The practice is known as 'skip stopping' and is often used to recover delays by missing out scheduled station calls but can come at a great inconvenience to passengers. In March following customer feedback and recommendations from the Donovan report, ScotRail pledged to suspend the use of this practice except in times of last resort.
From December, and over the following 12 months ScotRail will also be implementing improvements to the passenger timetable. The result of these changes will mean faster journeys, with more seats and less disruption. These improvements will be achieved with the introduction of high-speed trains and brand-new Hitachi class 385 electric trains along with major infrastructure improvements such as the electrification of the Stirling-Dunblane-Alloa route.
ScotRail Alliance Managing Director Alex Hynes said:
"Everyone at the ScotRail Alliance is working flat out to deliver the best railway Scotland has ever had, and I'm confident that we will do that. At the heart of our work is providing the best service for our customers. Earlier this year we took the decision to suspend skip stopping, except as a last resort. That decision was welcomed by our customers and these new figures reinforce that commitment. The performance of the infrastructure hasn't been good enough in recent months and I am sorry to customers for the impact this has had on them. We are doing everything we can to deliver the more punctual service that our customers deserve."
Author: Darren Porter
Image: ScotRail