Virgin rollout bodycams to all frontline staff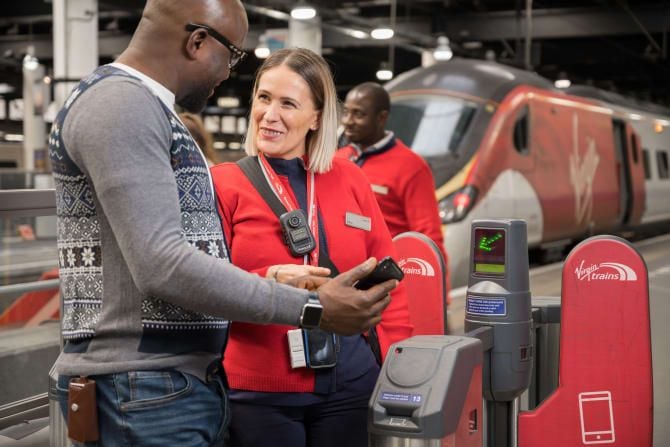 18th October 2018
Following a pilot scheme, Virgin Trains has invested in 275 body worn cameras to cover all frontline staff after an industry wide study revealed that assaults against staff wearing the technology were reduced by 47%.
The first UK train operator to do so, this investment by Virgin Trains has seen month by month reductions in assaults on their staff, with 20 reported in March 2018 and only 6 in September. After consultation with the staff, 80% said they felt safer in their roles when wearing the equipment and 90% would recommend them to colleagues.
A trial had been conducted as part of an industry commitment to continually improve safety and involved the University of Cambridge with five train operators, including Virgin Trains, the British Transport Police (BTP) and the Rail Delivery Group (RDG).
Lewis Komodromou, a Revenue Protection Team Leader for Virgin Trains, was assaulted by a passenger who had an invalid ticket at Euston station. He was shoved, subjected to verbal abuse and threatened. Other colleagues intervened, and the man was arrested but he did suffer a shoulder injury in the attack.
Following the rollout Lewis said: "My colleagues have said they feel much safer wearing the bodycams and they have more confidence in situations which could escalate. The response has been really positive," he said. "Since the bodycams have been introduced it has stopped lots of situations that could otherwise get out of hand. The bodycams have also been great for passing on evidence needed for the BTP."
Chief Inspector Lorna McEwan, of The British Transport Police, said: "The introduction of body worn cameras is an important step along the road in helping to ensure the safety of rail staff and passengers alike. Being assaulted or verbally abused simply for doing your job is completely unacceptable. No one should ever have to feel unsafe – especially when they are at work – and these cameras will help provide us with vital evidence should the inexcusable happen. We will continue to actively work with all rail companies to tackle this issue head on."
Paul Plummer, chief executive of the RDG, said: "We're proud of Britain's railway having such a strong safety record but as an industry we are always looking at ways we can make it even safer. One assault against a rail worker is one too many. Our research shows that body cameras can make a difference -- cutting assaults on staff by almost half. We're now working together as an industry to develop plans to roll out this technology nation-wide."
Author: Darren Porter
Image: Virgin Trains