Virgin Trains introduces first vegan-friendly menu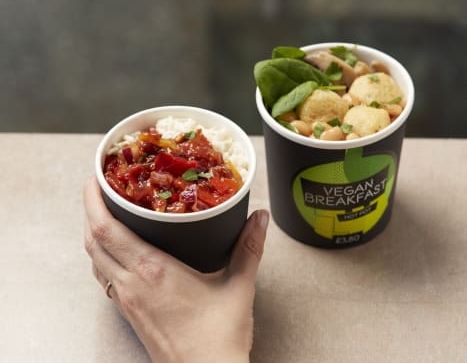 18th December 2018
Virgin Trains have received praise from campaigners for becoming the first operator to offer a full vegan menu for all its customers on all services. Passengers can choose from a range of vegan-friendly options at most times of the day following an overhaul of the onboard shop and First Class menu.
The move has been welcomed by the Vegan Society and comes in response to the growing number of people that have turned vegan or simply want to make changes to their diet. The menu has also been changed to make labelling much more clear in order to identify vegetarian, vegan and gluten-free options. Both the shop and kitchen are also now stocked with soya as an alternative to cows' milk.
Options on the new menu include a vegan breakfast pot complete with mushrooms, hash browns, spinach and baked beans, or vegan chilli in the evening. The First Class menu includes items such as a potato hash breakfast, Mediterranean pasta salad and spicy Bombay potato.
Julie Harper, Virgin Trains' Food & Beverage Proposition Manager, said:
"The clear message we've had from vegan customers is they need consistency so they have peace of mind when they board the train. We've worked really hard to ensure that our menus in First and Standard deliver that consistency throughout the day and include some really delicious, appetising options that we hope will tempt vegans and non-vegans alike."
Louise Davies, Head of Campaigns, Policy and Research at The Vegan Society, said:
"We've been campaigning for decent vegan options on trains over the last few months and it's great to see Virgin respond with a menu that anyone can enjoy. Market trends are showing a rapid growth in plant-based eating. We hope that others will follow Virgin's lead and take notice of the power of the vegan pound."
Author: Darren Porter
Image: Virgin Trains