RMT members stage protest to halt closure of Springburn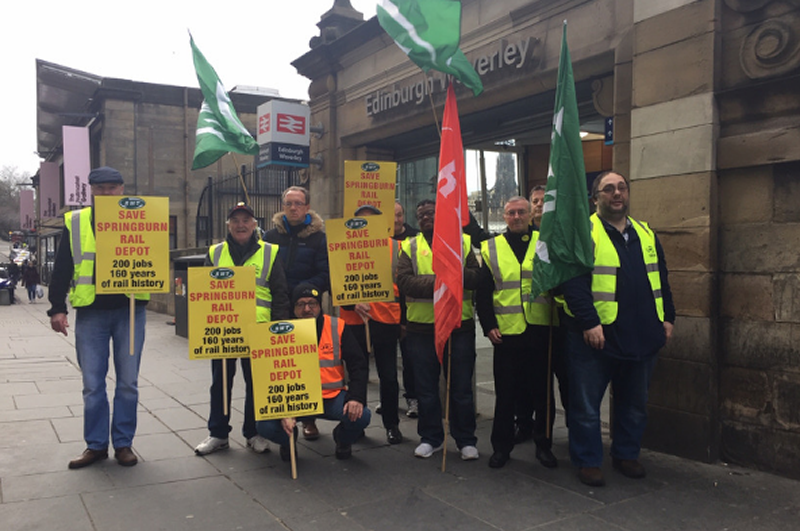 20th February 2019
Members of the RMT staged a protest yesterday in opposition to plans to close Glasgow's Springburn Rail Depot. The RMT welcomed public support for the action which was aimed at halting the proposed closure of the Springburn Rail Depot and lifting the threat to nearly 200 jobs, along with 160 years of train building, maintenance and engineering history on the site. After assembling at Market Street, Edinburgh Waverley, the campaigners marched on the SCottish Parliament for a debate after 5pm.
In December 2018 Gemini Rail announced their intention to close the Springburn depot with the loss of nearly 200 highly skilled jobs and it would also mean sweeping away 160 years of rail engineering history. The depot carries out servicing, maintenance, repair, overhaul and upgrades on the entire ScotRail fleet and the union believes that there will be no shortage of future work to keep the depot open. They therefore completely oppose these plans.
RMT General Secretary Mick Cash said:
"The planned closure of the Springburn Rail Depot in Glasgow is an act of industrial vandalism that will not go unchallenged and RMT is mobilising for the broadest possible campaign to halt these proposals in their tracks. We welcome the fantastic support for today's protest which will help to ram home the message that Springburn is not for sale and to demand that the option of nationalisation be placed centre stage.
"The skills set that our members at Springburn possess is simply irreplaceable and, without action from politicians and governments in both Edinburgh and Westminster, would be lost forever. This is just another example of the fragmentation of the privatised rail industry where prime assets are passed from one speculative owner to another and would mean that a proud railway nation like Scotland loses a key engineering resource at the stroke of a pen regardless of the consequences for jobs, training and the local economy.
"RMT will stand shoulder to shoulder with anyone who is willing to join us in the campaign to save the Springburn Depot and ensure that skilled railway work continues to be carried out in Scotland."
Author: Darren Porter
Image: RMT