SafeWise train receives makeover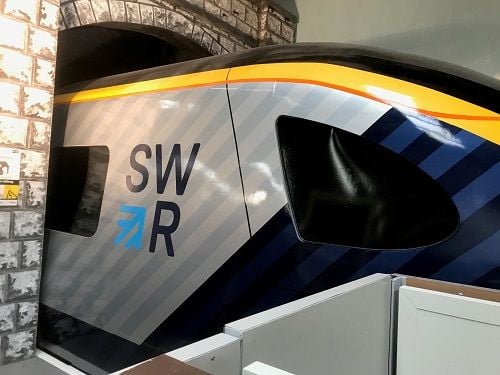 20th November 2018
It's not only the active South Western Railway fleet that is currently receiving a makeover, the train at Skills for life charity, SafeWise has received a new livery at it's Bournemouth learning village.
SafeWise provides skills for life for people of all ages at its learning villages in Bournemouth and Weymouth and plans to open a new village in Swindon, in 2020. The charity's facility at Bournemouth has an indoor village with a full-size high street, a beach, a train, and a road.
Part of the Safewise project is to continually update the scenes to make them as relevant and real as possible and the re-livery reflects this. The charity's Partnership Manager, Diana Newbury was mindful that visitors were being taught about railway safety in its Bournemouth village, but the livery of the train used was no longer relevant to the town. Diana contacted SWR to see if it was possible to vinyl-wrap the train in new SWR colours, and now a very smart, up-to-the-minute looking train continues to help SafeWise in its work to promote safety and develop life skills.
South Western Railway's Community Rail Manager, Andy Harrowell, said: "The work that SafeWise does for its local communities is outstanding, so when they asked us if we could update their train with our new livery, we jumped at the chance.
"Keeping people safe while they use the railway is our number one priority, so adding even more realism to what is already a superb facility can only help us all to achieve that goal.
"We are so impressed by the work SafeWise does in helping people to stay safe and develop life skills, we're now exploring the possibility of working with them on future initiatives."
SafeWise Partnership Manager, Diana Newbury, said: "SafeWise is extremely grateful to South Western Railway for re-wrapping the train and bringing it up to date. The train is a vital part of our new Junior Citizens Skills for Life programmes which include journey planning and rail safety. Having the local operator's livery enhances the realistic experience for our visitors."
The new train wrap came just in time for the SafeWise 20-year anniversary celebrations held at its Bournemouth centre earlier this week.
Author: Darren Porter
Image: South Western Railway