Colchester station celebrates 175th anniversary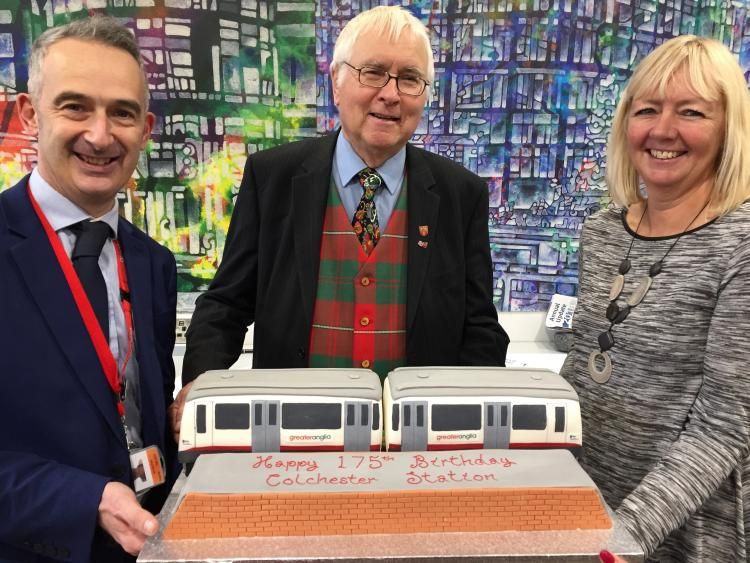 20th December 2018
Colchester station celebrated it's 175th anniversary this week and the occasion was marked by a cake that was cut on the station platform and handed out to passengers. The event was attended by Colchester's High Steward, Sir Bob Russell, Greater Anglia staff, station adopters and representatives of the Essex and South Suffolk Community Rail Partnership.
With a great affection for the station, Sir Bob Russell spent much of his childhood living near Colchester station and has lived within half a mile of the station for nearly 50 years.
Sir Bob Russell said:
"From the closing years of steam locomotives to the electrification of the line, the proximity of the railway with its associated noises and the hustle and bustle of a busy part of town has been a background for most of my life.
"Colchester station today looks nothing like it was when the line from London arrived 175 years ago – and the tracks terminated. It was to be some while before the line was extended to Ipswich and onwards; and the construction of branch lines to The Hythe and St Botolph's, and from Wivenhoe to Brightlingsea, and to Walton-on-the-Naze and Clacton-on-Sea.
"Overnight, in 1843 Colchester people went from relying on coach and horses for travel to London to a railway service which was cheaper, quicker and more comfortable than the stage coach. The town's future and prosperity were transformed.
"Although complaining about the railways is a national pastime, the reality is that for 175 years the railway has been a great asset for Colchester and its residents. With future investment, there is an even brighter future. The cake-cutting commemoration pays tribute to the railway pioneers of 19th century Britain."
Greater Anglia's Community Partnerships Manager, Paul Haynes, said:
"We are grateful to the Community Rail Partnership and Sir Bob Russell for marking the anniversary of this station, which from its Victorian beginnings, has seen many changes and improvements, and is now a thriving, vital transport hub, connecting Colchester to London and the rest of the region with fast, frequent train services."
Author: Darren Porter
Image: Greater Anglia