Phase 2 of Doncaster redevelopment starts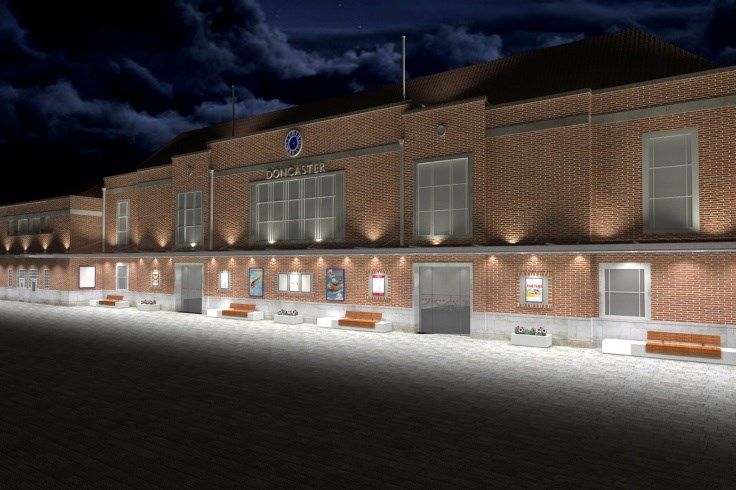 21st September 2018
Plans to redevelop Doncaster station have now taken another leap forward with work on the next phase of redevelopment getting underway. Work has now begun on the new eye-catching canopy that will welcome passengers on the front of the station building.
The existing canopy will first have to be demolished to make way for the all new contemporary glass structure that will provide a covered walkway through to the front of the station and eventually to a new taxi rank and car park.
The existing forecourt will be vastly improved by turning it into a pedestrian area with landscaping and water features, making the area a much nicer environment and make passengers feel much more welcome.
The station will continue to operate throughout these works but late September will see the North entrance closed for a period of 12 weeks.
Tim Hedley-Jones, Major Projects Director at LNER, said: "Doncaster is a busy station so we're really pleased to be working with the council to improve the experience of those travelling to the area via train. Significant progress has already been made and we're currently on track to complete the canopy in spring 2019."
Cllr Bill Mordue, Cabinet Member for Business, Skills and Economic Development, said: "The transformation of the train station is really starting to ramp up as we bring our exciting plans to life. The new canopy is one part of the City Gateway scheme which will create an amazing first impression of Doncaster when people arrive at our train station. Turning the existing forecourt into an attractive new public space will make such a difference and become a superb new route into the town centre. We are committed to creating a thriving Doncaster."
Dan Jarvis, Mayor of the Sheffield City Region, said: "It is great to see work start at Doncaster train station to transform it into an attractive and welcoming area for all those visiting, living in and working in our town centre. I made a commitment to support Doncaster's Urban Centre Masterplan projects, and the redevelopment of the train station is a great example of how the town centre is being improved. I'm delighted that this project has benefited from £7.5 million of Sheffield City Region LEP money, which has come from the Local Growth Fund (LGF). LGF funding allows LEPs to drive forward economic growth across the country, helping to build places that work for everyone."
Author: Darren Porter
Image: Doncaster Council