Go-Ahead to receive 22 Stadler Flirts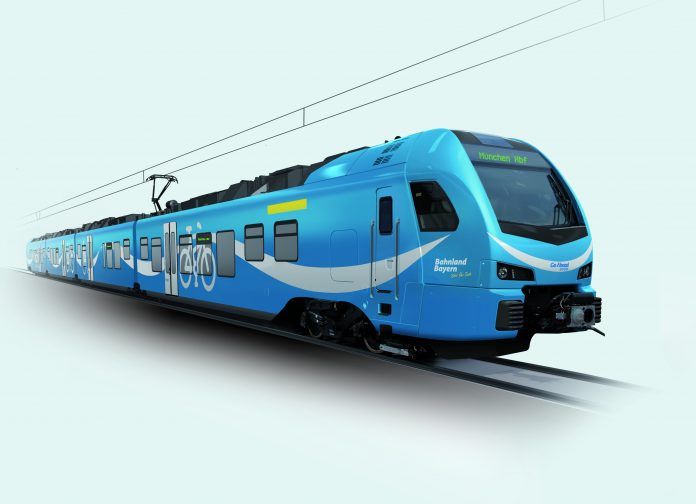 21st September 2018
In a deal signed at the InnoTrans convention, Go-Ahead have agreed a deal with Stadler to receive 22 electric FLIRT railcars for use on the Allgäu E network in Baden-Württemberg and Bavaria.
The contract with a low three-figure million euro order volume was made official at a ceremonial signing from Stefan Krispin, General Manager Go-Ahead Germany, and Ulf Braker, CEO Stadler Pankow.
With an expected completion date of December 2012, this will mean that Go-Ahead will have a fleet of 88 FLIRT railcars in total with various configurations and features.
"We are very pleased that we are able to continue the excellent, partner-based cooperation with Go-Ahead," said Ulf Braker, Managing Director of Stadler Pankow GmbH. "The vehicles are the first e-vehicles that will run to Lindau am Bodensee on this route which will be electrified by the time operations begin. The extremely comfortable vehicles with large luggage racks are our key to meeting the increase in travel in this region."
"With the supply contract for the Allgäu electric network we have now concluded our fourth contract with Stadler. One of the cornerstones of our high-quality operations are the state-of-the-art vehicles," said Stefan Krispin, Managing Director of Go-Ahead Verkehrsgesellschaft Deutschland GmbH. "As new railway operators on this route, our future passengers will have high expectations of us in terms of comfort, safety and quality, and we want to fulfil these expectations with the new FLIRT railcars from Stadler."
Author: Darren Porter
Image: Stadler