Stadler reveals new Greater Anglia train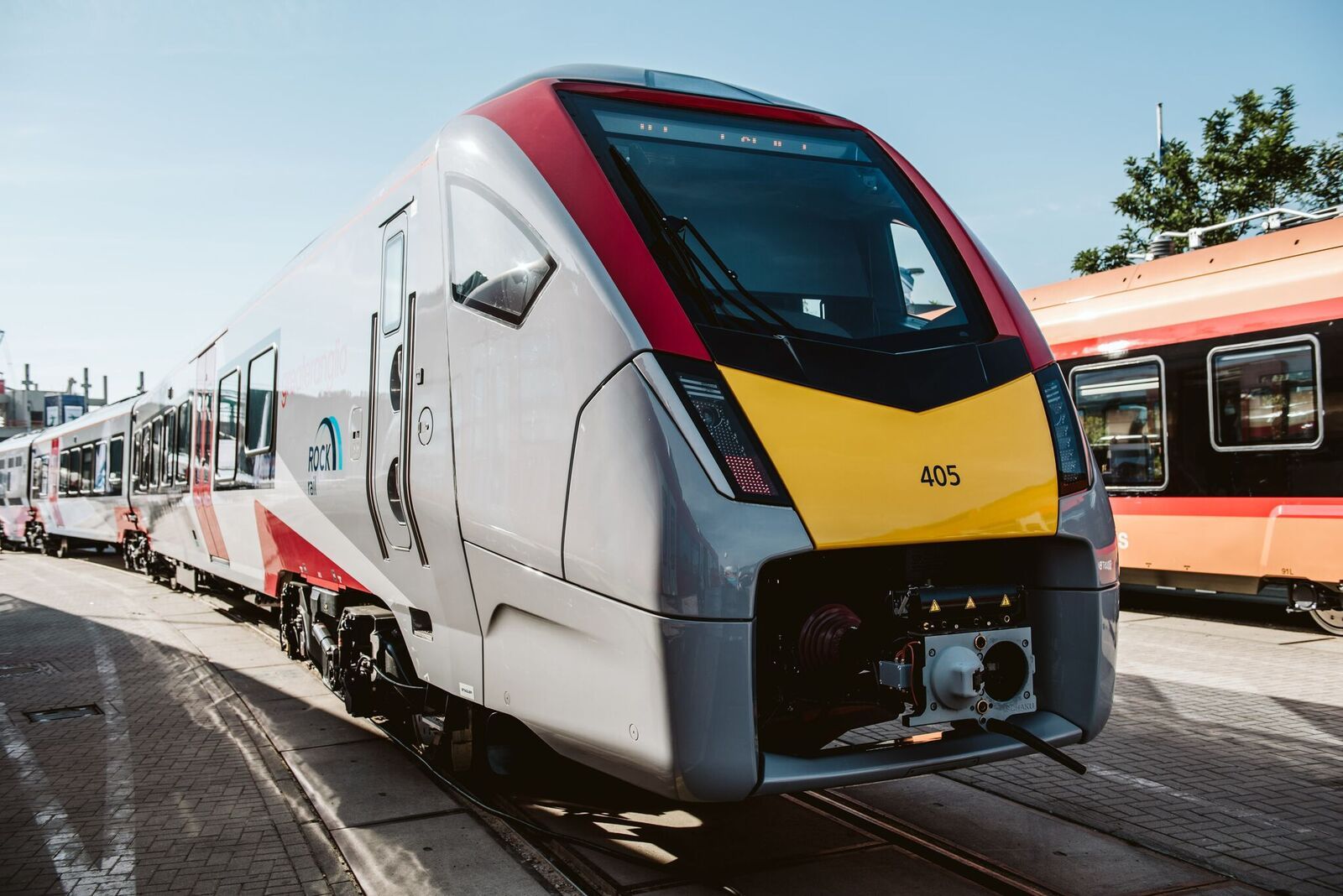 21st September 2018
There was an interesting unveiling at InnoTrans yesterday as Stadler unveiled a bi-mode unit (BMU), which will form part of the brand new fleet of trains for the East Anglia network.
Stadler is manufacturing 58 new trains, to be leased to Greater Anglia and financed by Rock Rail East Anglia, a joint venture between Rock Rail, Aberdeen Standard Investments and GLIL Infrastructure. They will enter service from 2019. The Swiss rail manufacturer will also be responsible for maintaining these units at Crown Point depot in Norwich. Reliable, fast, comfortable and attractive, they will transform rail travel in East Anglia and carry more passengers. They will be greener than the ones they replace, using the latest environmentally friendly technology.
The contract, awarded in 2016, will see Stadler build and deliver 14 class 755/3 three-car and 24 class 755/4 four-car BMUs, ten 12-car class 745/0 EMUs and ten 12-car class 745/1 EMUs. The new fleet will replace Greater Anglia's existing Intercity, rural and Stansted Express trains.
Revolutionary and innovative, 38 of the 58 new trains will be bi-mode, meaning they can switch between diesel mode and electricity power. These will run on rural routes in Norfolk, Suffolk, Essex and Cambridgeshire.
Thomas Ahlburg, group chief executive of Stadler, commented: "The contract awarded two years ago was our first for intercity and local trains in the UK, and we are immensely proud to be showcasing this state-of-the-art new vehicle, together with our partners, Greater Anglia and Rock Rail. More than half of the new trains will be bi-modes, underscoring our commitment to finding ever greener solutions to power trains and cut CO2 emissions."
Jamie Burles, managing director of Greater Anglia, added: "It's exciting to see the first completed train from Stadler. We're very much looking forward to these trains arriving in East Anglia, where they will play a key part in revolutionising and modernising the railway in our region. We're confident they will transform our customers' journeys, offering them a new level of comfort."
Mark Swindell, chief executive officer of Rock Rail, concluded: "Rock Rail is thrilled to be working with Stadler, Greater Anglia and our equity partners, Aberdeen Standard Investments and GLIL Infrastructure, in introducing this new fleet of trains set to transform the travelling experience of rail passengers across the Greater Anglia region and representing a major part of a £2 billion investment into UK rolling stock by our pension and insurance company investors."
Author: Darren Porter
Image: Stadler