Southeastern Javelin named after Dina Asher-Smith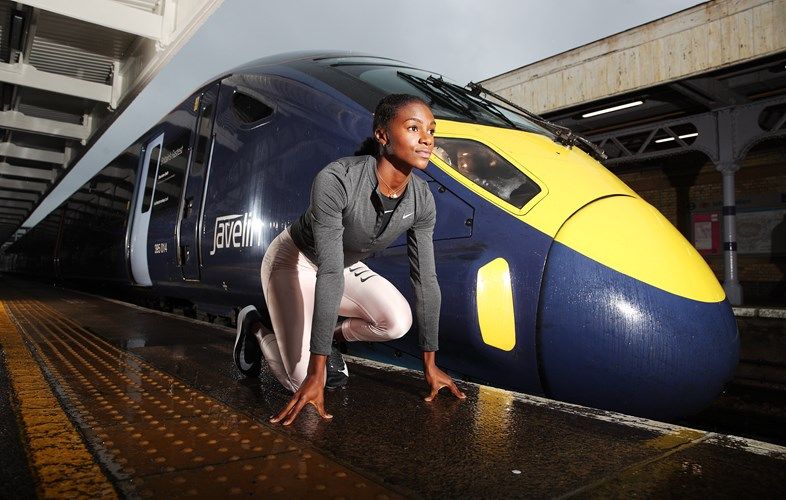 22nd November 2018
Southeastern have named one of their Class 395 'Javelin' trains after European Championships gold medallist Dina Asher-Smith. As the train is capable of travelling on our network at up to 140mph, it is ideally suited to sharing it's name with Britain's fastest female athlete.
Dina had a fantastic summer of sporting achievment in 2018, and is now a four time European Championships gold medallist. From Orpington, Dina travelled back to her home station to celebrate the train naming, which was specially routed there for the occasion.
The idea for naming a train after Dina originally came from Joanne Russell, a Southeastern ticket office employee at Victoria station. She recalled helping Dina and her mother buy tickets to travel to an athletics event in Birmingham back when she was just 14 years old.
This naming continues a tradtion for the 'Javelin' fleet where various members of the class have sporting names added. These have included Dame Kelly Holmes, Jessica Ennis, Sir Chris Hoy and Victoria Pendleton.
Dina Asher-Smith said: "As a regular Southeastern passenger, it's exciting to see my name and signature on the side of this high-speed Javelin train. It's been an incredible year for me, but so much of my journey started right here in Orpington, so it's a real honour to be recognised in this way."
David Wornham, Passenger Services Director at Southeastern said "We were delighted Dina was keen to get on-board with our tradition of naming high-speed trains after high-speed athletes. It's nice to think that other young sprinters from the area might see Dina's name on the side of the train, and feel inspired to continue working hard. Who knows, maybe we'll be back here again honouring their achievements in few years' time!"
Author: Darren Porter
Image: Southeastern