Northern welcomes 100th refurbished train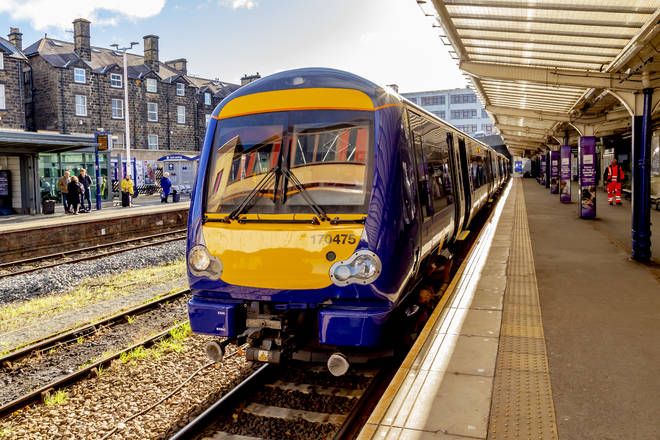 30th October 2018
Northern has proudly launched it's 100th refurbished train into service, marking another milestone in the comprehensive modernisation programme being undertaken by the company.
The Class 170 DMU features upgraded seats and lighting that offers a more comfortable and enjoyable journey for passengers. Free wifi and at seat power points also ensures that passengers are able to keep themselves suitably entertained on journeys through the North of England. These features will be rolled out across the whole of the Northern fleet in the future.
Offering 50% more capacity than the Pacer trains they will be replacing, the Class 170 will run principally on the York- Harrogate-Leeds route and passengers have already given some impressive feedback, commentating on the improved ride quality and spaciousness of the trains.
The latest Class 170 joins the following list of refurbished trains that are already carrying passengers on the network. These include:
27 x Class 150
4 x Class 155
24 x Class 156
9 x Class 158
4 x Class 170
32 x Class 319
Ben Ackroyd, Northern's Engineering Director, said: "Our 100th refurbished train going into service is another great milestone in our modernisation programme. We are committed to improving our customers' on-board experience and the refurbishment programme is really gathering pace. The refurbishment of our fleet is an ongoing programme of work and, ultimately, our customers will be travelling on trains which are not only cosmetically better, but will also all feature free wifi, at seat power, high definition CCTV and customer information media screens."
Andrew Jones, MP for Harrogate and Knaresborough, said: "This is good news, and congratulations are due to Northern. The quality of the rolling stock on our line is raised with me more than any other rail issue, and people have really noticed the old Pacer trains are being phased out and replaced by much better ones, with the last old Pacer going in just over 12 months. Passenger numbers on our local line are high and it is important that the quality of the rolling stock improves and the number of people that rolling stock can carry increases. That is why I am pleased that with the progress being made by Northern. I enjoy travelling on the new trains, for the better journeys they provide."
Along with the refurbishment programme on the existing fleet, a fleet of 98 brand new trains are also on their way to Northern with some of these already in testing on the network.
Author: Darren Porter
Image: Northern Rail