Network Rail launches new Thomas & Friends book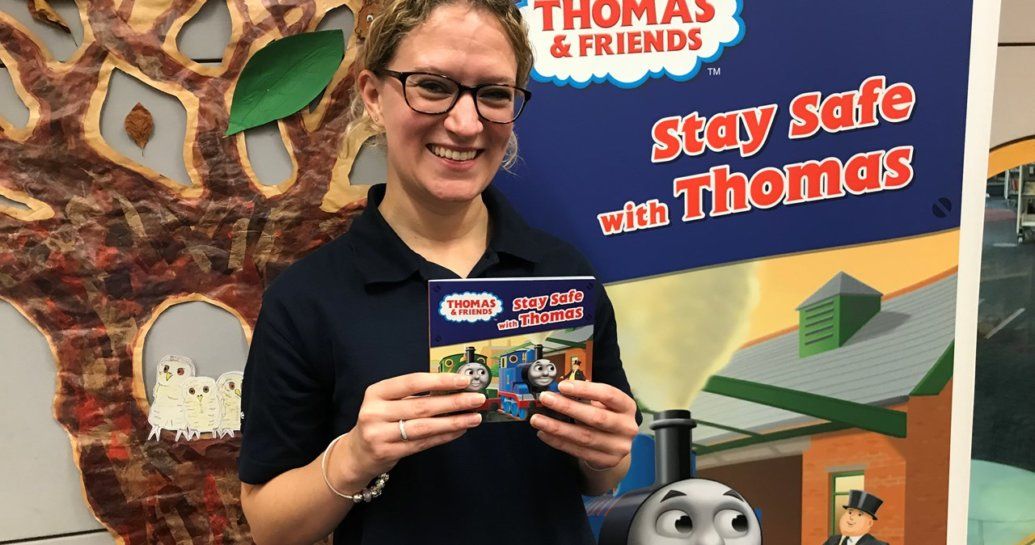 30th November 2018
Network Rail has teamed up with the world's most famous blue engine and pre-schooler favourite, Thomas the Tank Engine, to help children learn how to be safe when using the railway. Titled 'Stay Safe with Thomas', the book was officially launched in the Anglia region at Norwich Library on 29th November.
Children and their parents gathered at the library for a special reading of the book, which sees the mischievous engine having fun on the railway instead of staying safe. This puts himself and his friends in harms way. Valuable lessons are learnt about dangers such as not stopping at a level crossing when the red light shows, leaving gates open to allow animals on to the tracks and when people stand too close to the edge of a platform.
Kat O'Malley, community safety manager at Network Rail, said: "The railway is full of both obvious and hidden dangers. By offering parents an engaging and fun way to talk to their children at a young age about safety on the railway, we hope children will grow up knowing the dangers and keep themselves and their friends safe."
Network Rail and the British Transport Police hope the story book will encourage parents to discuss rail safety with their young children, in the same manner that they teach them about other dangers they may encounter when out and about. Books are being distributed to libraries for borrowing across the Anglia region, in addition to nurseries and doctors' surgeries.
Superintendent Susan Peters said: "We are delighted to be collaborating on this initiative, our focus is keeping people safe and working with such a well-known children's television character is exciting. This Thomas the Tank engine story book gives us an engaging and accessible way to ensure essential safety messaging is reaching young children. Although BTP runs activity through the year to educate the public of the seen and unseen dangers in and around the railway tracks, we hope that being able discuss this subject through the use of these books will make our safety messages go further."
Senior Regional Licensing Manager, Publishing at Mattel Consumer Products, Maribel Le Gelebart, said: "We are thrilled to be partnering with Network Rail on the launch of the Stay Safe with Thomas storybook. Thomas & Friends has been teaching life lessons for over 70 years through storybooks as well as its exciting content and product ranges. So, it was a natural fit to collaborate on a rail safety storybook which leverages and reinforces the brands' key values of friendship, teamwork and safety."
Network Rail and the British Transport Police (BTP) are distributing copies of the book to local libraries, nurseries and doctors' surgeries across the Anglia region. The book is also available to download for free by clicking here.
Author: Darren Porter
Image: Network Rail