Belfast to Londonderry Drivers Eye View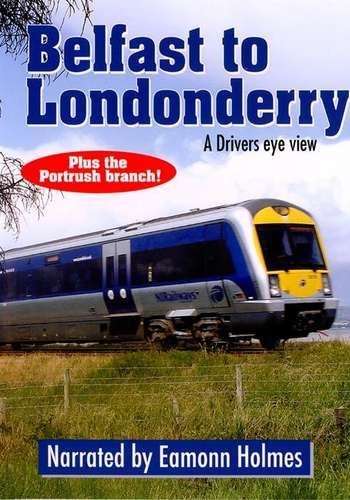 A modern C3000 CAF DMU takes us on a journey over Northern Ireland's longest railway (96¼ miles).
We start at Belfast's Great Victoria Street Station, reopened in 1995 and subsequently allowing all lines to converge for the first time. After Belfast Central, our train climbs up and over the new multi-million pound cross-harbour link which was the catalyst for the metamorphosis of Northern Ireland's rail network. Shortly after passing York Road depot, the Larne Harbour line branches off and we continue on the new 90mph recently reinstated line to Antrim. From there we reach the populous towns of Ballymena, Ballymoney and Coleraine. Now follows the most scenic section from Coleraine to Derry running via the semaphore signalled Castlerock Station and through the atmospheric Castlerock tunnels beside the Atlantic Ocean. Further coastal running brings us into Londonderry along the banks of the River Foyle.
We then jump back to Coleraine where we board a classic 450 Castle class DEMU ('Thumper') for a trip along the 5¾ mile branch line to the popular seaside town of Portrush. Finally we take a brief look at the Bushmills and Giant's Causeway steam railway.
As usual, much of the history of the various lines is included. Narration is by Belfast-born television personality Eamonn Holmes.
Running Time: 130 Minutes