Jubilee: Stanmore to Stratford Drivers Eye View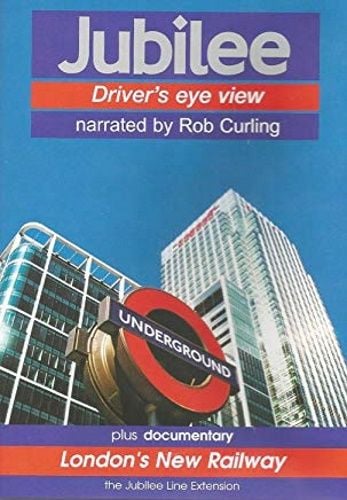 Two programmes in one - Driver's Eye View: Stanmore to Stratford + Jubilee Line Extension Documentary Narrated by Rob Curling
The video begins at Stanmore, having been opened by the Metropolitan Railway but subsequently taken over by the Bakerloo. After four stations, we join the multiple tracks of the Metropolitan and Chiltern Lines. At Finchley Road the old cast iron Bakerloo tunnel section begins and with additional lighting you will see the tunnels in the best possible light. At Baker Street the Jubilee proper starts with the original opening to Charing Cross in 1979. As this is a Video 125 production we couldn't avoid the temptation of seeing what has become of the old Jubilee terminus, now abandoned but still retained in the event of an emergency.
Our train then diverges at Green Park and takes the new Jubilee line extension through Waterloo and Docklands. All underground stations on the JLE have platform edge doors in concrete lined tunnels - a unique experience for drivers. Surprisingly the doors were not installed primarily for safety- they were a cost saving measure.
LONDON'S NEW RAILWAY Narrated by Richard Bath. The Driver's eye view is followed by a documentary made for London Underground about the planning, construction and opening of the Jubilee Line Extension. Amongst the highlights, this comprehensive record shows the truly remarkable architecture, the breakthrough of the tunnel boring machines, the opening with LUL's Managing Director and interviews with the architects, politicians and users, everything you ever wanted to know about this futuristic undertaking.
Running Time: Driver's Eye View 62 minutes + Documentary 23 minutes