'Royal Scot' Goes West (Exeter - Plymouth - Par) Steam Drivers Eye View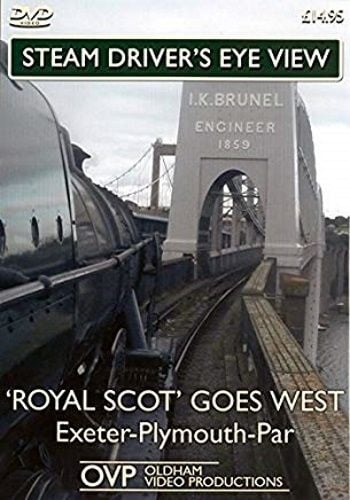 On a beautiful summer's day, join us on this exciting journey on-board an LMS 'Royal Scot' Class loco as we take on the Devon & Cornish Banks.
The first part begins at Exeter, where we run along the famous Sea Wall at Dawlish and Teignmouth. We then head for the arduous South Devon Banks of Dainton & Rattery, on the edge of Dartmoor, before dropping into Plymouth.
The second part begins at Par, and we tackle the long climb from Bodmin Road through the beautiful Glyn Valley over the classic Cornish Viaducts. We then cross the Royal Albert Bridge from back into Devon once again. A bonus sequence also includes the Eastbound climbs of Hemerdon & Dainton Banks.
With live sound recorded from the locomotive, we bring the action right to you. This program also features commentary, titles & locations. Driver's commentary is also featured, in which we see how to driver a steam engine on this challenging stretch of line.
Locomotive Featured: LMS 'Royal Scot' Class, No.46100 'Royal Scot'.
Running Time: 135 Minutes