SkyeTrain Drivers Eye View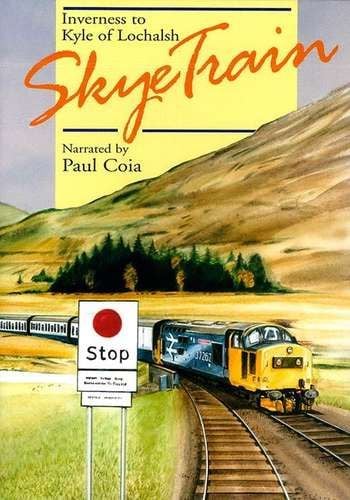 Little did we realise how soon the class 37 diesel passenger trains would be extinct when the Kyle line was filmed in 1987. Even the rolling stock of BR MK 1s are now history other than on preserved railways.
Shot in the middle of summer, the Kyle of Lochalsh line is seen at its most spectacular! To many it is the most scenic line in Britain. From Inverness to Dingwall we travel alongside the Beauly Firth and witness some of the last remaining Highland Railway semaphores still in operation at the time but long-since abolished. How many people realise that there was once a signal box at Lentran? We actually filmed inside it and recorded the sound in stereo.
At Dingwall we turn due west for the Highlands proper and traverse the summits at Raven Rock, Corriemoillie and Luib (the highest at 646ft) and stations such as Garve, Achnasheen and Strathcarron set amidst the beautiful Highland scenery.
Finally, the most spectacular section, Stromeferry to Kyle of Lochalsh along the shores of Loch Carron. All the while we follow this classic loco-hauled train from the air for some timeless classic footage. This last section took years to complete due to the solid rock that we now travel through and take for granted. At the end of the line, we see the classic Highland Railway terminus just a short hop from the Isle of Skye facing us. The original intention was for the line to cross to the Island - hence the Dingwall and Skye Railway name. However it never did. Instead passengers continued aboard the ferry at Kyleakin. You will even see the ferry in operation another piece of history for now, of course, the Isle is connected with the mainland by a road Bridge and the ferry has long since gone.
The loco featured is large logo Class 37262.
Running Time: 90 Minutes