The Old Gotthard Tunnel Route Drivers Eye View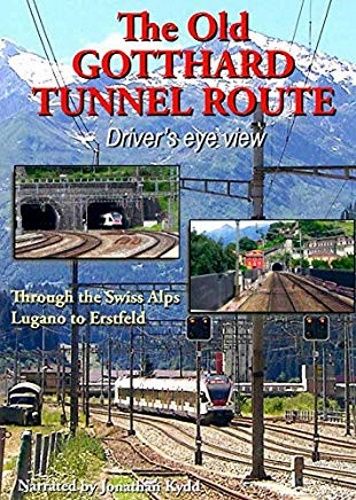 The original Gotthard railway tunnel through the Swiss Alps, took ten years to build and cost 147 lives. It was a mammoth undertaking and required the construction of long ramps on either side totalling 85 miles. Dozens of tunnels, viaducts and bridges were necessary. The ruling gradient of 1 in 37 was deemed to be just about the maximum that the original steam locomotives could handle, even then, trains were usually double-headed and even had banking engines attached at the rear! In order even to keep to this severe gradient, the engineers had to construct a number of additional spiral tunnels to gain height, hewn out of solid rock.
Our film begins at the Swiss town of Lugano, where we see the funicular that runs from the picturesque historic lakeside town up to the main line railway station. There we take a front seat in the cab of a modern Regional Express EMU for a spectacular journey. As soon as we depart, our train has to climb up and through the Monte Ceneri Pass overlooking the Ticino plain below. Descending steep gradients we reach the junction town and the capital of the Italian speaking Ticino region: Bellinzona.
With a change of driver, we begin the gradual climb up towards the summit of the line. En route, we see the entrance of the current longest traffic tunnel in the world, the new Gotthard Base Tunnel, opened in 2016. Taking the original route, that has been the main Alpine railway passage for over a hundred years, we can marvel at the feat of engineering - building a conventional railway through this seemingly impassable mountainous region. Eventually the climb ends at Airolo where we enter what was, in 1882, the longest tunnel in the world. A brief history of the pass and the building of the tunnel itself, interjects our journey through the 9 mile long double track tunnel.
The scenery is of course Alpine spectacular and what better way of seeing it than from the driver's cab?
Running Time: 110 Minutes