The Western Corridor Drivers Eye View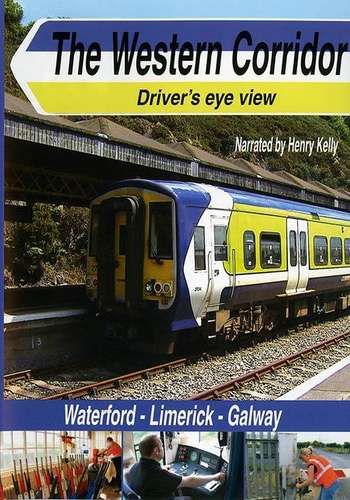 The catalyst for this Driver's eye view was the relaying and reopening of the Western Rail Corridor from Ennis to Galway in 2010, enabling passengers to travel all the way from Waterford in southern Ireland to Galway in the north west with two changes. We travel on these three trains in the drivers' cabs. All three are formed of 2-car 2700 DMUs.
Train 1 starts out from Waterford beneath the only elevated signal box still in use in Ireland. We then diverge onto the Limerick Junction branch which takes us over dozens of manually operated level crossings and through stations with traditional block semaphore signalling - a genuine time warp if ever there was one. At Limerick Junction we cross the Dublin to Cork main line on Ireland's only surviving flat crossing before changing ends and reversing into the station. We see inside the following signal boxes: Limerick Central (elevated), Limerick West, Carrick on Suir, Clonmel and Limerick Junction. Make sure you don't miss this train by the way, the next is in six hour's time!
Train 2 is the Limerick shuttle, taking us non-stop from Limerick Junction to Limerick City itself. Part of this route is controlled by the Central Traffic Control at Dublin and we take a look inside this as well as seeing Dromkeen manually operated level crossing.
Train 3 Our final 2-car 2700 begins at Limerick Colbert station and takes us over the route we have just traversed for just under a mile before beginning a large 180 degree turn towards Ennis. There we join the newly revived Western Corridor signalled from Athlone, the signal centre of which we also visit. At Athenry, we join the Dublin to Galway Intercity main line. Reversing in the platform, we now sprint non-stop to the West Coast terminus at speeds up to 70 miles an hour.
Our entire trip from Waterford to Galway is followed by a helicopter, showing us the train and the terrain. Such attractive rural scenery shouldn't be missed, so, unusually, this Driver's eye view runs for over 2½ hours - 'though still at the standard price!
Bonus footage: Barrow Bridge, the longest railway bridge in Ireland, filmed during the last months of operation but since closed.
Running Time: 155 Minutes