Uckfield Thumper Drivers Eye View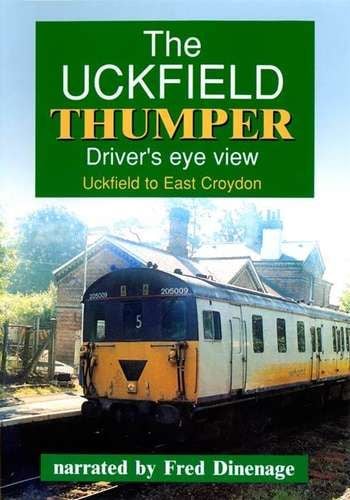 To celebrate and record the veteran Class 205 diesel electric multiple units, Video 125 presents a Driver's eye view of the Uckfield branch, one of the last two lines to be plied by the DEMUs.
These unique trains have long been nicknamed Thumpers due to their distinctive sound. Now, after the units' well earned retirement this record of their unmistakable sound (from trackside and on board) lives on in stereo. Surprisingly, the Uckfield branch is fascinating in itself. It is the stub of a former through route from Tunbridge Wells to Lewes. Nowadays the route features both single and double track sections.
Following the fatal head-on collision at Cowden in 1994, strict new operating procedures were put into place including the provision of SPAD* signals at stategic points. You will see these as the driver does from the cab. The line runs through classic Kent and Sussex countryside with, surprisingly, only three towns of any significant population. At Oxted we take a brief look inside the signalling centre and then our Thumper, 205 009, runs non-stop to East Croydon.
Running Time: 61 Minutes